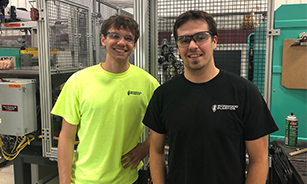 Are you looking for an exciting new career? At Ironwood Plastics, we are always looking for talent to join our team. Through the years, we have established a reputation for creating quality products and delivering top-notch service. If you have experience in injection molding and feel that you have what it takes to be a member of the Ironwood Plastics team, please see our current openings.
Employment Levels:
Our Ironwood facility consists of two buildings with approximately 100 employees. Our Two Rivers plant employs approximately 35 people.
Work Hours:
Both locations operate 24/5. Shifts are Monday through Friday: 6:45 AM – 3:15 PM, 2:45 PM – 11:15 PM, 10:45 PM – 7:15 AM.
Major Benefits:
In addition to competitive wages, we offer Health and Life Insurance, Health Advocates, 401(k), an innovative Cash Profit-Sharing Program, Paid Vacations & Holidays, Cafeteria Plan, Employee Assistance Program and optional insurances thru Mutual of Omaha.
Dress Code:
Jeans and a t-shirt are acceptable. Safety glasses are required and are provided to you free of charge.
Promotion and Wage Advancement:
We're proud to say that over 50 percent of our technicians and managers started their employment with us in an Entry-Level position. In the Entry-Level positions we have a well-developed pay-for-skill program. For other positions, wages and performance are reviewed at least annually.
Training:
We have an excellent training program that all new hires are required to attend during their first week of employment. We cover all of the topics you need to know – safety, math, measuring, tolerancing, blueprint reading and basic statistics, as well as our work procedures.
Open Book Management:
Every month, all employees attend a meeting presented by the management group and view the prior month's fiscal results.
And More…
We also provide many other perks such as free coffee, tuition reimbursement, safety rewards, and much more.