Home /

Engineering Solutions
ENGINEERING SOLUTIONS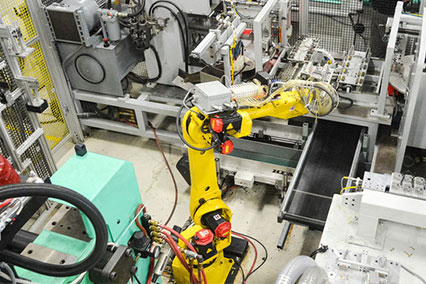 By using a data-driven scientific approach to developing and optimizing the injection molding process, we can provide more consistent processing and parts quality for our clients. This ensures that they will receive the exact product they ordered and in a timely manner.
Ironwood Plastics has a long history of working with customers to take on projects that they may be having challenges with.  Issues may be related to tooling, processing, or capacity issues with their current supplier.  Our teams will work with your staff to fully understand the concerns and develop a strategy to meet your needs.
With political environments changing and reshoring initiatives gaining momentum we are here to support any efforts related to these activities as well.
Case Study:
Large tier two automotive customer had a vendor that was terminating their molding business.  The project required purchasing a new molding machine, receive and upgrade their highly automated cell, make tooling improvements, enhance the process, and submit necessary PPAP documentation within 20 weeks.
Ironwood Plastics begins each quote with a detailed evaluation of the project to determine if we are technically capable of producing a part that will consistently meet or exceed the customer's expectations. In addition to estimating costs, we analyze necessary equipment and resources to plan for production capacity. This ensures that all projects we quote are a good fit and any prospective issues are addressed preemptively.
On projects that have a high likelihood of becoming "live"  we implement a  process we call  the "Traffic Light".  The outcome of this analysis yields a color coded (red, yellow, green) representation  of every feature or note on a particular print.  The review requires interaction with our customer and promotes clear expectations.
We incorporate a data driven approach to developing and optimizing the injection molding process. This methodology includes having a thorough understanding of the molding system, clear reasons for process settings, comprehensive process documentation, and a systematic approach to troubleshooting. This ensures more consistent processing and part quality. We also utilize RJG cavity pressure monitoring through the use of eDART systems, which use in-cavity pressure and/or temperature sensors to see what is happening inside the mold. Cavity Pressure: Prior to cavity pressure technology, we were reliant on settings and feedback from the molding machines. We can now use the actual pressure within the cavity to control and monitor our processes. RJG monitoring is equipped on all molding machines at Ironwood Plastics.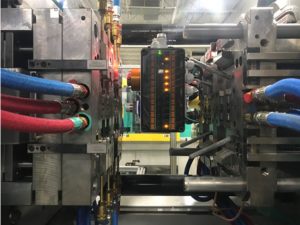 Automation is used to load the mold with inserts or housings, pick parts, then perform assembly and inspection.
Case Study:
A – An insert molded part that we produce has a tolerance of .0005" per side of the insert. We found that, over time, our robot was "growing" due to thermal expansion, causing us to misload our inserts. The decision was made to use vision guided robotics to adjust the position of the robot as it grows. Now, with every cycle the robot takes a picture and adjusts the offset putting it back in the correct position.
B – A customer required an overall height to be monitored on every component.  An upgrade to the automation cell was implemented adding a measurement system to analyze every shot prior to packaging.  Correlation studies were required to ensure post molded components aligned with measurements taken immediately after molding.
C – A group of sensitive insert molded components had high risk of certain failure modes.  An automated sorting system was developed utilizing flex feeder technology, vision guided robotics and state of the art sensor technologies feeder bowls and vision systems to achieve zero defects.
Ironwood Plastics can design, build and repair any of the molds and automation it runs in production. We have designers, tooling engineers and manufacturing engineers on staff to perform and direct mold and automation designs internally or with one of our trusted domestic or offshore mold and automation vendors. We use Creo for our internal designs, and our vendors use a variety of CAD software that can be easily interfaced with our system.
MRO (maintenance, repair, and overhaul) schedules are established with every project ensuring the frequency of cleaning, maintenance, and repair of wear items are performed so unplanned equipment breakdowns are minimized, ensuring consistent product quality and delivery. 
Case Study:
A customer had a very challenging insert molded component that utilized an engineered resin that was prone to leaving residue on mold components during the molding process.  In addition, the molded component geometry required thin wall molding to achieve desired product performance, as a result a leak test was necessary to detect molding issues in this area.  We discovered that mold design coupled with an aggressive mold cleaning frequency was necessary to assure zero defects. Utilizing our predictive maintenance module in IQMS (MRO), we were able to adhere to our tooling maintenance plan resulting in more efficient production and higher part quality.
As the quote progresses towards becoming a project, a Design for Manufacture analysis is performed on the project. A model and detailed print from the customer is typically necessary to complete this step. Every dimension, note and specification are evaluated by a cross-functional team and a color is assigned to each detail. Green means the requirement is understood and can be complied with. Yellow entails there may be some missing information that is still needed to understand the requirement. Red means the requirement is understood, but not feasible at this time for given reasons. The project cannot move forward until this requirement becomes yellow or green.
The FMEA (failure mode effect analysis) is then completed to ensure the manufacturing cell is developed to address all potential issues.
Case Study:
Case study coming soon.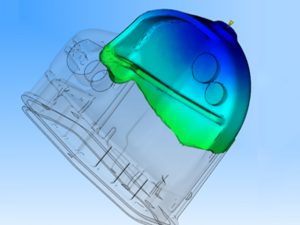 A process in which a 3-D part model is brought into the mold flow software for analysis. The most commonly used analyses are Fill, Air Traps, Weld Line, Fiber Orientation and Warp.
Support Information:
Fiber Orientation: Fiber Orientation can be very helpful in predicting part warpage and is a very helpful tool when using resin with filler. The filler fibers align with the fill path and generate differential shrink rates in the flow versus cross flow direction.
Resin characterization plays a large role in the predictability and accuracy of the mold flow results.
Case Study:
Customer had a large component produced out of HDPE.  The current production had severe post mold warp that required shrink fixturing and machining. We suggested they consider a VAVE project to eliminate the secondary steps.
IWP's engineering team was able to view the process and make adjustments to ensure the process was centered and repeatable.  A laser scan and colormap was developed from the molded parts.  Resin was sent for characterization;  the parameters from the "gold standard analysis" was utilized with our mold flow analysis.  The resulting mold flow mimicked the parts molded thus we had a baseline to use to begin the reverse engineering process.  Multiple geometry changes and moldflow analysis was completed to confirm a "pre warped" design built into a mold would then result in a flat part.   
First parts off the mold were better than the prior production source.  Many years of production followed.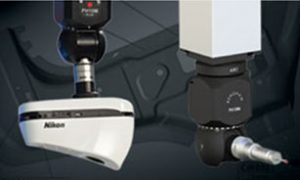 An inspection plan is established for each part. Raw surface data is gathered through insourced laser and touch probe scanning, and outsourced CT scanning.  Colormaps are generated for visual comparisons to models.  Pre programming of inspection routines are generated to improve efficiency in multiple piece first article inspections.  Other equipment used to support the inspections of products include toolmakers microscopes, smartscopes, and miscellaneous support equipment.
Ironwood Plastics is able to mold high temperature engineered grade resins exceeding 700 degrees Fahrenheit.  Our molding machines and associated temperature circulators are selected based on a long history of molding high temperature materials. Steel tools and coatings are selected to withstand the harsh environments. The 2019 addition of a new MOTAN central material handling system ensures resin is always prepared properly for the molding process.  Also have weigh scale blenders to support those blends that require tightly controlled additives.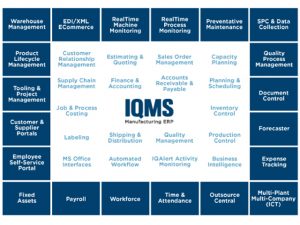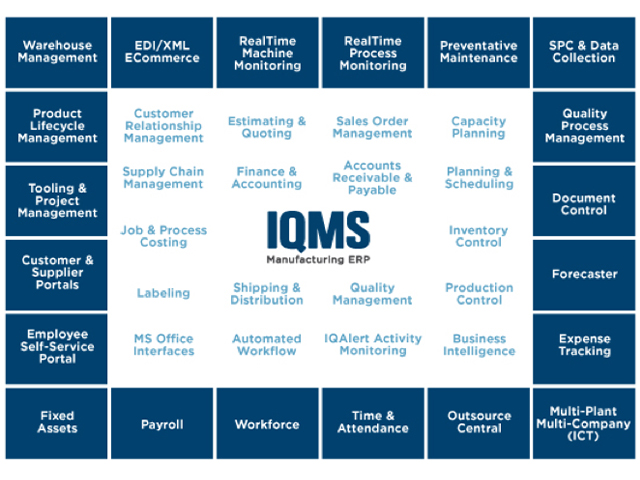 A highly integrated manufacturing ERP software system used for complete management of all projects.
Fact:
IWP implemented IQMS in 2004.  IQMS allows for the complete management of all processes.
Utilization allows for full traceability from receipt of resin to the finished product.  Asset Management MRO Module allows us to systematically track and schedule maintenance on all major capital equipment capital equipment and all customer-owned tooling, gages and fixtures. By using predictive maintenance, unplanned downtime for tooling and machines has dropped dramatically; leaving more uptime available for production.
Ironwood Plastics strongly supports continuous improvement opportunities whether it be linked to VAVE cost savings ideas or through our internal MCE (meeting customer expectation) process.  This process allows for any employee to make a recommendation for an improvement.  A team evaluates, scores and ranks the suggestion, and provides feedback to the employee if the idea will be implemented or not.  Any suggestion provides an opportunity for the employee to win a quarterly gift certificate.